Well-tuned listening for efficient communication!
The Smart Package is our language learning program in 3 steps, allowing you to acquire foreign languages efficiently and with long-term results.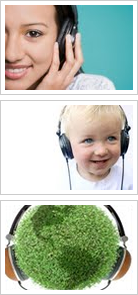 STEP 1 : SMART LISTENING
(listening with the "Electronic Ear")
Objective : Be on the Right Frequency !
Thanks to passive listening sessions, widen the spectrum of your hearing to optimise your ability to integrate foreign languages.
50 hours of SOLISTEN® (daily 2-hour sessions of passive listening) :
Preparatory Program = 20 hours (2 weeks).
Same program for all language-learners.
3-week break ... or the Talk First module "Over to You !"
Language Integration Program = 30 hours (3 weeks)
This program is selected by the Tomatis® Practitioner according to the target language.
STEP 2 : SMART TALKING
Objective : Be active !
With TALKS®, integrate the pronunciation and specific musicality of the target language, correctly, efficiently and on a long-term basis.
20 hours (minimum) : speak during active sessions of 1 hour to 1 hour 1/2.
Program : preparation (passive listening) followed by a session of the active TALK module.
Method : repetition and/or the reading out loud of phonemes, words, sentences and texts according to your level.
STEP 3 : YOU TALK !
Objective : Speak for Yourself !
Our lessons focus on your speaking skills, pronunciation and communication skills, for a Result which Speaks for Itself !
French Classes = French as a Foreign Language and French for native speakers